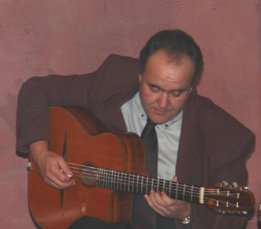 The Jazz Guitar Experience
from stevelaming.co.uk
Create the perfect ambiance for your party, function or event by booking a live jazz ensemble. This site provides an insight into the sounds available from guitar based jazz. Be it a solo guitar or duo, through to a quartet or larger. You can find examples of the kind of sounds you can expect to hear.
Solo
The solo jazz guitar has a sound all it's own. Perfect for that intimate gathering and small locations.
Duo
A duo adds fullness to the sound and can be an additional guitar, double bass, vocalist or solo instrument.
Trio
A Trio provides greater depth and variation and can add a solo instrument to the sound.
Quartet
A quartet comes in many guises and selection of the instruments can change the feel and musical selection.
Dinner / Cocktail Pary
Make your next dinner party extra special book a solo guitarist. Unobtrusive music helps create a relaxed atmosphere.